Skiing at 70: Ski Tips for Seniors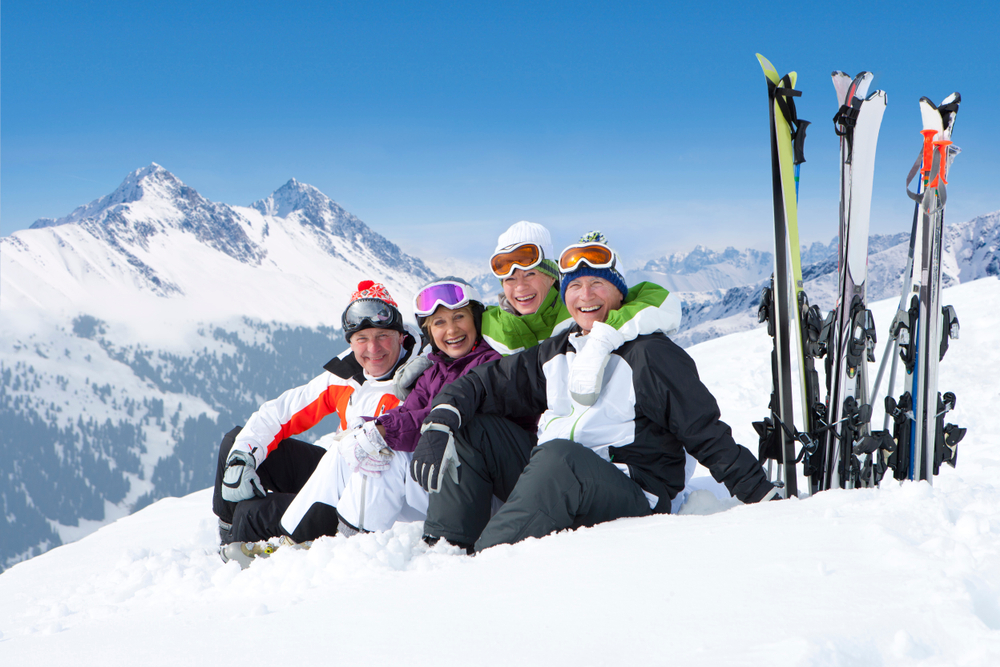 Today's seniors are turning 60 and 70 with no signs of slowing down. If you love swooshing and gliding on skis, we have some good news for you: The benefits of skiing are great for your physical, mental, social and emotional health. The key is to be prepared and know your limits so you can enjoy the sport safely.
Let's explore the health benefits of skiing for active older adults:
A healthy heart. Any physical activity that gets your heart pumping is good for building cardiovascular endurance. With skiing, your heart rate goes up as you make your way down the hill, and then you have a period of rest while you're riding the chair lift. The benefits of aerobic exercise include strengthening your heart, improving circulation, and even lowering blood pressure and cholesterol levels.
Balance and coordination. Skiing requires core strength, agility, and the ability to constantly evaluate your body positioning and react quickly to changing conditions. Staying fit with skiing can help prevent or postpone balance problems that can happen with age.
Strong bones. Skiing is a weight-bearing exercise that helps strengthen the muscles, joints and bones of the lower body.
Weight control. By building muscle, you'll burn more calories even at rest, which can help you maintain a healthy weight.
A good night's sleep. Exercise can improve sleep by helping people fall asleep more quickly, sleep more soundly and awake feeling more refreshed and alert. Since skiing is a vigorous form of exercise that's usually spread out over several hours, there's a good chance you'll be ready for a snooze after hitting the slopes!
Sharp mental skills. Any type of physical activity can give your brain a boost, which may help with memory and reasoning skills in older people.
Improved mood. Skiing is a great sport for enjoying fresh air, scenic views and sunshine. Simply spending time outdoors is a natural mood-booster, and research shows that exercise releases feel-good hormones that help boost your mood and sense of well-being.
Smart Moves for Senior Skiers
Downhill skiing is a high-intensity sport that comes with the thrill of swooshing and gliding down snow-covered hills. Whether you're 25 or 75, there's a risk of falling down, but older age can make it more difficult to bounce back after a fall. If you have concerns about the potential for injury, it's a good idea to talk to your doctor before starting a sport like skiing.
Make the most of your next winter adventure with these skiing tips for seniors:
Choose quality equipment. Dusting off your ski equipment from decades past may bring back some fun memories, but you're probably better off hitting the slopes with modern equipment that's suited for your size, skiing style and ability level.
Wear a helmet. A helmet is an essential piece of gear for skiers today, and you'll notice that most skiers do wear helmets on the ski hill. This has been a major shift in the last few decades as skiers of all ages and ability levels understand how important it is to protect the head in the event of a fall or collision.
Flex your fitness. Before you go out skiing, build up your strength, flexibility and stamina with exercises you can do at home or in the gym. Strengthen leg muscles by doing standing squats; focus on flexibility with stretching and yoga poses; build stamina by climbing stairs or working out with a stationary bike or nordic ski machine.
Take ski lessons. Whether you're a beginner or an experienced skier who could benefit from a refresher course, signing up for a ski lesson is a great way to ease into the sport.
Warm up beforehand. Do some light activity to get your body warm and loose before heading out — your body will thank you. Warm muscles, tendons and ligaments are less likely to be injured than cold ones.
Stay hydrated. Be sure to drink plenty of water before, during and after your ski excursion. Don't forget to keep your water bottle insulated from the cold to prevent freezing.
Bring a buddy. If you're headed to the slopes, always be sure to have at least one other person with you and let someone else know where you're going and when you plan to return. Skiing together is a fun and memorable way to spend time with friends, children and grandkids.
Know your limits. Be careful not to push yourself too far, because injuries are more likely to happen when you're exhausted. Just getting out there on the hill is a big accomplishment, and it's best to enjoy the experience without setting high expectations.
Come to Holland for Your Next Adventure
When you retire at Freedom Village in Holland, MI, you can hit the slopes whenever you want! With three ski resorts within an hour's drive, you'll find plenty of opportunities to play in the snow. We can't wait to show you what makes our independent living community special, and why Holland is one of the best places to retire in Michigan. Please contact us to learn more about moving to Freedom Village.