Medication Management Tips for Seniors and Caregivers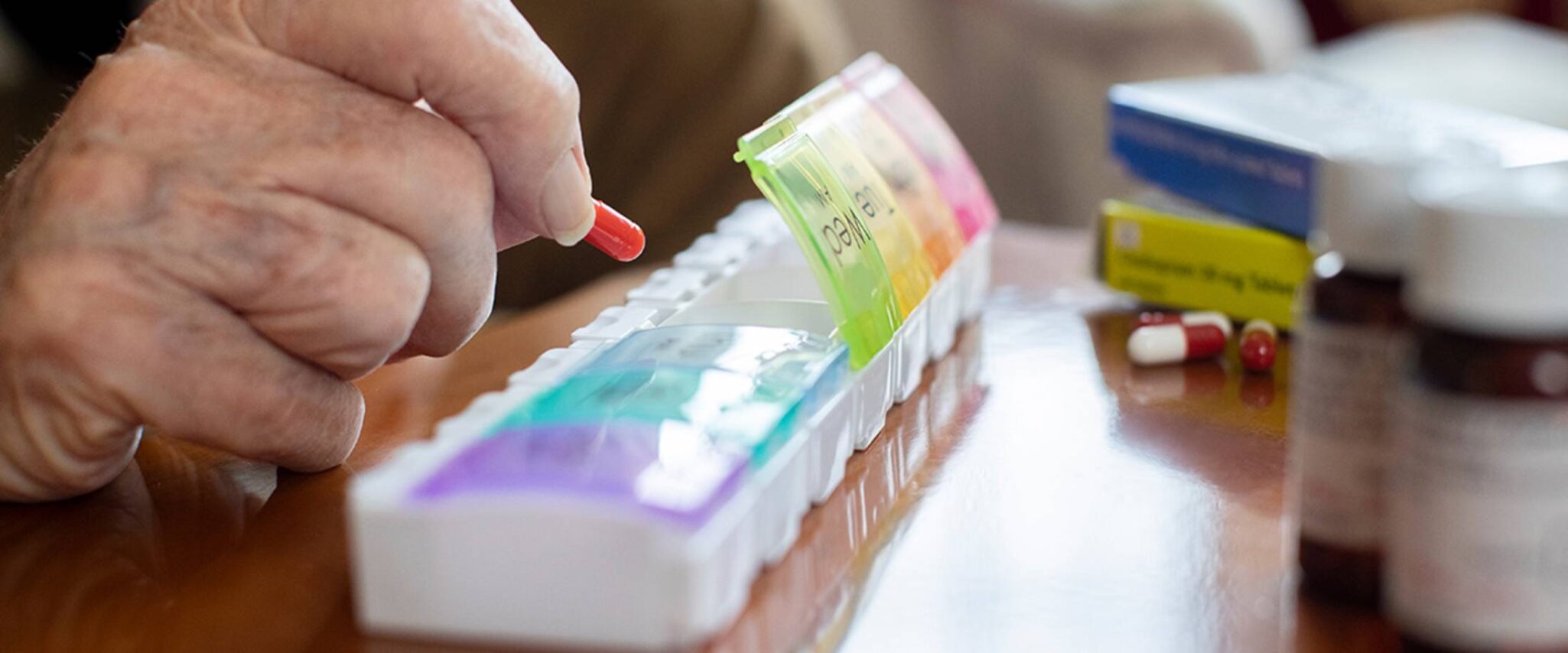 We're glad you're reading this blog post — educating yourself about  medication management for seniors is one of the most important things you can do as you age (or help care for someone who is aging). Men and women over the age of 65 purchase and consume more medications than any other age group, according to the FDA. In fact, as many have multiple conditions, requiring multiple medications, seniors account for more than 30% of all prescriptions!
While medication management can be overwhelming for a senior or a caregiver who is assisting, a little planning and organization can help set a routine for ongoing success. Keep reading for important tips on how to ensure each medication is taken properly and safely.
Why Medication Management is Important
All medicines have the potential to cause side effects (also known as "adverse effects" in literature you may receive about a medication), especially when not taken as prescribed. But managing medications for seniors is especially important, as older men and women are proven to have less tolerance for medications (how we process medication changes as we age). Once you begin to take more than one medicine as part of your treatment plan, there is a risk of adverse drug interactions. This happens when drugs don't work like they should when taken alongside each other. An adverse drug interaction can happen any number of ways, such as having one medication impact  the effectiveness of another, or experiencing a dangerous reaction from taking multiple medications simultaneously.  Sometimes an adverse interaction can occur simply by taking a medication with the wrong food.
Because of potential interactions, always follow your doctor's recommendations.
Be sure to keep them fully informed of everything you're taking  — even if it's an over-the-counter medication, a vitamin, or any kind of health supplement.
Organize, organize, organize.
From proper storage of medications to setting up home delivery of medicines for convenience, taking the time to plan ahead and organize a routine for medication management can make all the difference. There are many new technologies now available for medication management tools to help seniors and caregivers keep track of multiple medications, from electronic pill organizers that come with an alarm to smart phone apps that enable medication list updates with a simple scan of the medicine bottle.
The first and most important thing you can do to organize medications for proper medication management is to create (and make multiple copies of) a list of all medications, from medicines to vitamins to herbal remedies. Always keep the list updated and store it somewhere easy to find for doctor  appointments, hospital visits, pharmacists and emergency providers. The list should include the name of the drug, the name of the doctor who prescribed it, what condition it treats, and the recommended dosage. Make sure it's easily understandable, in case a friend or family member needs to assist with medication management.
Consider these helpful medication management tools:
Pill organizer, to prepare a week's worth of pills in advance

Dry erase or bulletin board to display your medication schedule

Colored markers or stickers to help identify the bottles of various medications

Medication diary or notebook to track any health changes or possible symptoms of side

effects for health care providers and emergency personnel, if needed

Direct delivery of prescription refills from specialty pharmacies, a service you can ask

your doctor about at the time of prescription
By organizing your medications, it's much easier to stick to a routine for treatment. This can also alleviate stress and worry from your daily life. Now let's look at some helpful ways to stay on track with medications.
6 Medication Management Tips for Success
Whether you or someone you know is helping oversee regular treatment with medication, knowing these key medication management tips can help make the process easier: 
1. Store medicines safely in a convenient place that keeps them cool and dry. The kitchen cabinet is always a good location, since many medicines are taken with food.
2. Administer medicines consistently, at approximately the same time every day (try to stay within 1 hour before the allotted time and no later than 1 hour after). Taking medicines with a meal is often easier to remember and less disruptive to your daily schedule, so be sure to ask the doctor or pharmacist if this is possible with all medications currently prescribed.
3. Confirm the drug and dosage when taking it. Since many drugs have similar names, it can be easy to mix them up when taken with other medicines, herbal remedies or supplements.
4. Read all information given to you about each drug's side effects and save it for reference; seniors can be especially sensitive to new medications.
5. Use the same pharmacy for ALL your medications, if possible, so your pharmacist can spot drug interactions and issues with prescriptions before they arise. They can also provide large print for the bottles, if needed.
6. Ask your doctor for a full review of the complete medication list (including vitamins and supplements) whenever a medication is added or adjusted, to ensure everything is taken correctly.
Ask your doctor, not the internet.
It can be tempting to self-prescribe for medication management to save money and trips to the doctor's office, but actions like skipping doses, keeping medicines after their expiration date, or taking medications prescribed to someone else can all have serious health consequences. In fact, about 350,000 people are hospitalized each year after visiting the emergency room due to adverse drug events, according to the Centers for Disease Control and Prevention (CDC). Take the time to talk to the doctor and pharmacist for accurate information (versus searching for answers on the internet), and get all your questions answered on how to treat conditions safely and effectively.
Sometimes all you need is a helping hand, and that's just what you'll get at Freedom Village, the community for premier assisted living in Holland, MI. We'll help with all the basic activities of daily living, including bathing, dressing and grooming, medication management, and personal maintenance. Whatever you need, it's always your choice.