How to Make Halloween Safe and Fun for People With Dementia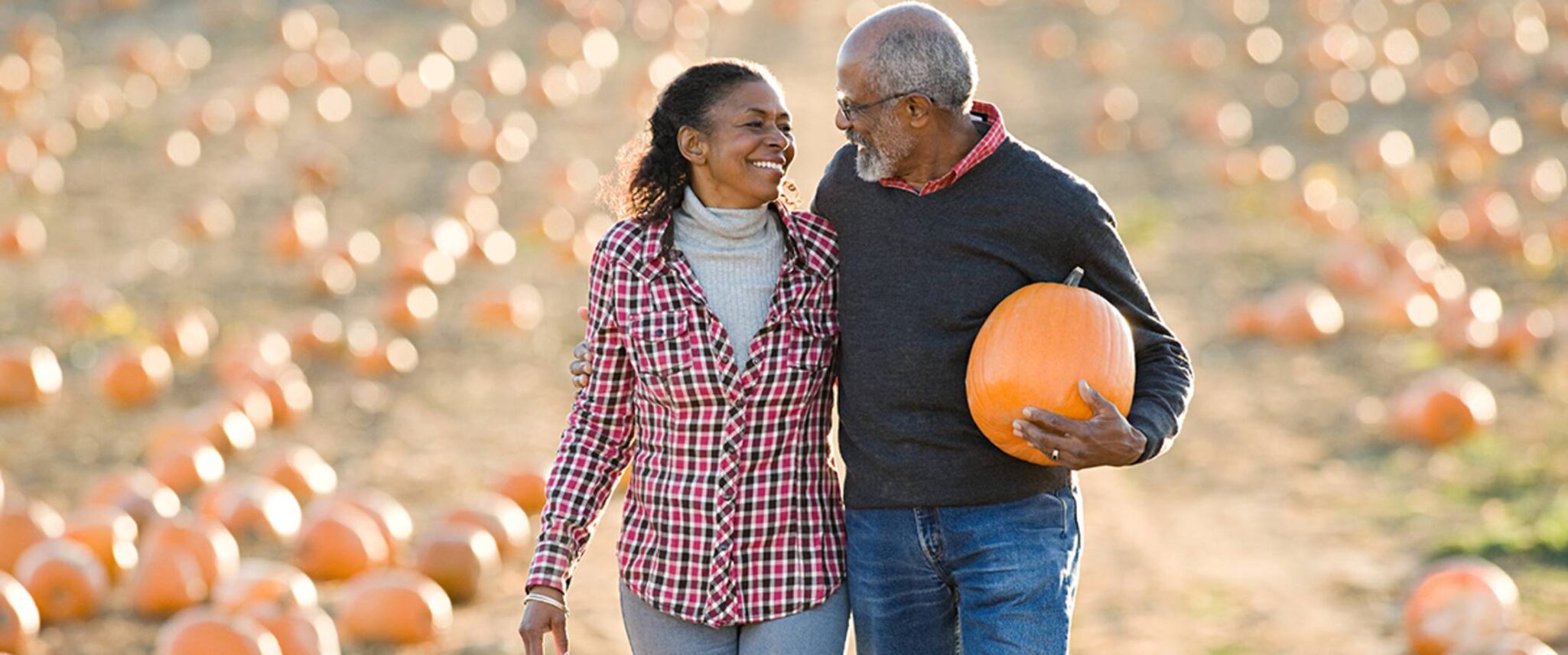 Halloween is a favorite holiday for many people, but for those with dementia, the atmosphere-altering decorations, unexpected visitors, and changes in loved ones' appearances can create a confusing and upsetting experience. They can feel disoriented and their level of agitation can increase. If you're at a loss for how to celebrate Halloween with a senior with dementia, we've got some tips to help make October 31 a fun day for all.
5 Tips for a Dementia-Friendly Halloween
Limit the decorations
Flashing or flickering lights can create shadows that make people with dementia feel unsafe. Any decorations, like fake cobwebs or giant ghosts or witches, that change the look of a room significantly can cause disorientation and anxiety. Trick doormats or motion-activated toys often produce too much stimuli.
Emphasize the fall season
A few pumpkins around the house can create a nice sense of the season. Add some fall leaves, and you've got a nice tableau that shouldn't cause confusion or unease for your loved one.If you live in a region where the foliage changes in the fall, maybe you take a sight-seeing excursion to see the leaves. You could even plan an outing to a pumpkin patch so your senior loved one can pick out their own pumpkins. Select a time when it won't be too crowded.
Opt for dementia-friendly activities
Halloween activities for seniors with dementia may look a little different than your usual celebrations, but they can still be fun. Instead of watching scary Halloween movies, maybe you make a pumpkin pie, or you could try dipping caramel apples. Instead of carving menacing faces into the pumpkins, you could paint them with beautiful or fun designs. An autumn-themed coloring book or jigsaw puzzle could also help your senior loved one get into the spirit of the season.
Plan ahead for visitors
Halloween parties with lots of people can be overwhelming for someone living with dementia, especially if the guests are wearing masks or face-obscuring makeup. Large gatherings may be too stressful for your loved one. Additionally, an evening full of doorbell rings and strangers on their stoop is likely to cause agitation.You can leave a bowl of candy outside their front door to discourage trick-or-treaters from ringing the bell. If your loved one has grandchildren or great-grandchildren they're especially close to, you could arrange for short visits between the kids and your loved one. The senior could give them candy or a caramel apple they made. This way they create holiday memories and avoid much of the potential stress.
Keep an eye on the candy
If there is a stash of candy in their residence, make sure you keep it tucked away in a safe place. A loved one with dementia may forget their dietary restrictions or may simply overindulge. Too much sugar can lead to a crash later on. Poor nutrition can cause fatigue, irritability and other health-related challenges.Halloween may have a spooky theme, but the point of the holiday is to have fun. With a few adjustments and some pre-planning, a senior with dementia can have a delightful October 31.
If you'd like to know more about memory care at Freedom Village, the festivities and smart precautions we take, contact us. A member of our team would be happy to tell you more about it.