What is the difference between assisted living and a nursing home?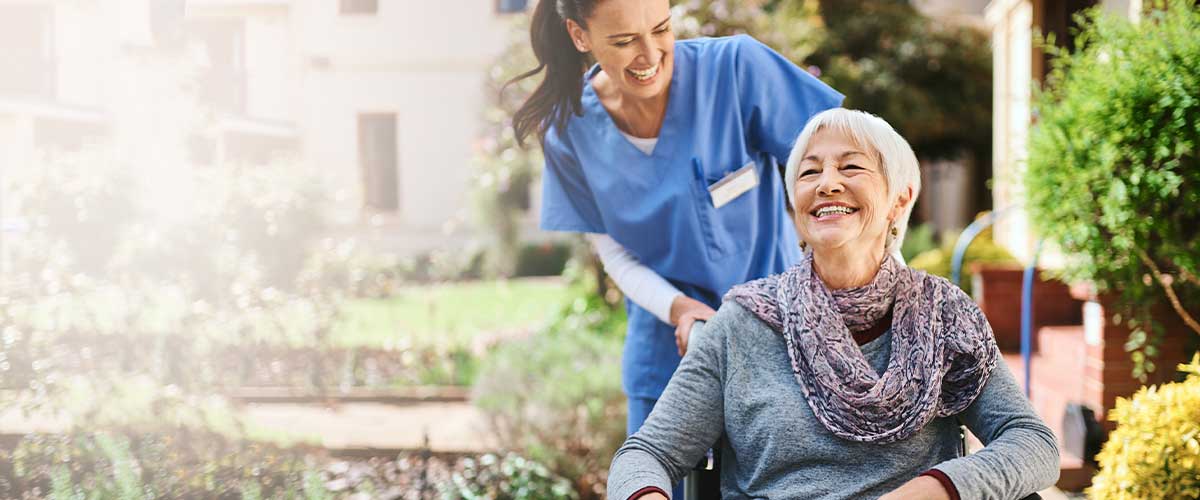 When you notice that someone you love is struggling to live independently, you may wonder whether they may benefit from assisted living or a nursing home. Both types of senior living provide assistance with the types of daily tasks we all must do, as well as a safe, comfortable environment. So you may find yourself wondering: What is the difference between assisted living and a nursing home? Let's find out.
What is assisted living?
Assisted living communities are designed to empower residents to maintain as much of their independence as possible while providing personalized support with activities of daily living (ADLs). The types of assistance given depend on the individual's abilities and preferences, but may include things like help with bathing, dressing, grooming, and toileting/continence. Staff may also help with medication management and reminders but typically do not provide medical assistance. Residents benefit from additional services, including daily meals, laundry, housekeeping, and transportation for medical appointments or shopping.
In assisted living, residents enjoy the privacy of their own apartment homes, and couples can usually live together, even if one spouse does not need assistance. Whether a studio-type layout or a one-bedroom apartment, each residence includes a private bathroom and most have kitchenettes. They are also maintenance-free, meaning residents won't even have to change a lightbulb. Residents are usually encouraged to bring some furnishings and decor from home to help make their apartment feel comfortable and familiar.
In addition to help with personal care, assisted living residents enjoy a wide range of social, cultural and recreational programs that encourage them to engage with others and stay active in fun and enriching ways. And just as important, residents and their families enjoy the security of knowing that staff members are available to provide assistance or respond to emergencies 24 hours a day, seven days a week.
What is a nursing home?
Nursing home is actually a rather outdated term for what is now usually referred to as a skilled nursing community. This level of care is most appropriate for people who have chronic medical conditions or disabilities — or those who are in chronic pain — who need care and supervision from licensed skilled nursing professionals 24 hours a day, seven days a week. This usually includes people who have limited mobility and require assistance with most or all daily tasks such as bathing, dressing, grooming, eating and toileting. Because nursing homes or skilled nursing communities are staffed by at least one attending physician or nurse practitioner, registered nurses, licensed therapists and other professionals working under a medical director, they are able to provide medical care that is not available in assisted living.
Nursing homes may also offer short-term rehabilitation stays for people who are recovering from an illness, injury or surgery. In short-term rehabilitation, patients not only receive any needed nursing care, but also will have a schedule of physical, occupational and/or speech therapy designed to help them regain lost function and strength so they can return to a more independent lifestyle.In a nursing home or skilled nursing community, rooms may be private or semiprivate. While most are furnished, many communities invite residents to bring some items from home to make their rooms feel more familiar. Residents have access to shared common areas and a range of organized social gatherings and recreational programs designed for their needs and abilities.In addition to closely monitoring medical needs round-the-clock, nursing homes provide assistance with meals including feeding when needed, as well as services such as housekeeping and personal laundry. This provides security and peace of mind for both residents and their family members.
Which level of care is right for my loved one?
Now that we've answered the question "What is the difference between assisted living and a nursing home?" you may need help deciding which level of care is right for your loved one. You can gain valuable insight by visiting communities in your area as well as by talking with your loved one's physician. The information below provides a helpful summary to get you started.
Assisted Living
Assisted living is appropriate for people who are generally independent but who need some assistance with activities of daily living to help maintain their desired level of activity and empower them to enjoy life more fully. In addition, people experiencing the early stages of Alzheimer's disease or another form of dementia can often benefit from living in an assisted living community and transition to specialized memory care when their condition advances.
Admission into an assisted living community usually involves a medical assessment to develop an appropriate, individualized plan of care. The assisted living staff will work with the resident and their family members to ensure that just the right amount of support is provided. In addition, assisted living is usually private pay, though some long-term care insurance policies may provide coverage.
Nursing Homes
Nursing homes or skilled nursing communities are better suited to those who need more care than an assisted living community can provide — especially if they have medical needs that require round-the-clock monitoring by licensed medical professionals or intensive physical, occupational or speech therapy.
Admission into a nursing home will also involve a medical assessment and developing a plan of care. Nursing home stays can be "private pay," fully or partially paid by a long-term care insurance policy, or may be covered by Medicare if the patient meets certain requirements.
Choosing an assisted living community or a nursing home for someone you love is an important responsibility, and we are here to help. Freedom Village provides unmatched, personalized assisted living and skilled nursing, including short-term rehabilitation, at our community in Holland, MI. To learn more, simply call us at 616-200-7271.