Spring Crafts for Seniors in Assisted Living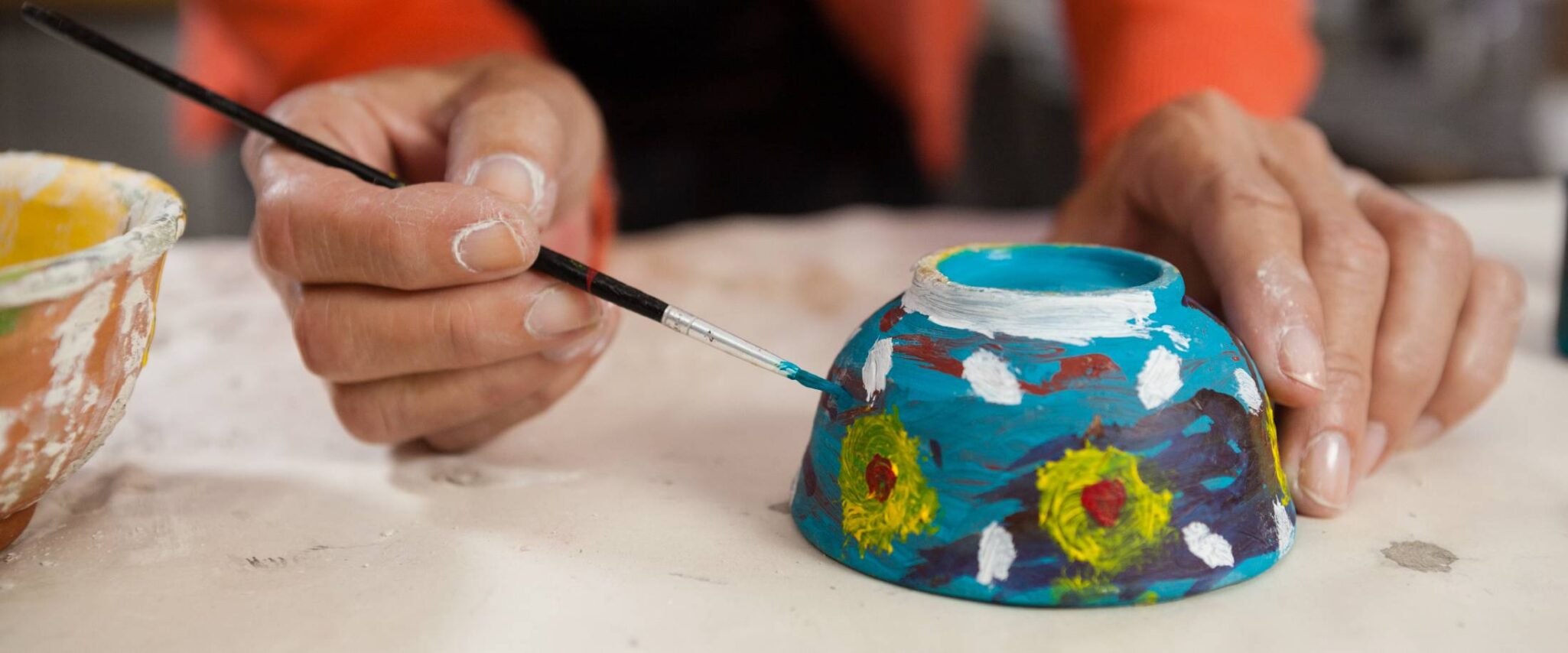 Buh-bye winter! We're seeing spring flowers slowly unfurling, and our residents recently planted flowers for National Plant a Flower Day. And of course, we're all looking forward to the return of the annual Holland Michigan Tulip Time Festival. Every year, over five million tulips burst into bloom in our city parks and streets, at Windmill Island Gardens and along the Tulip Trail. It's miles of color, markets, tours, and a carnival guaranteed to put a smile on your face, even under your mask.
Bring some of this glorious spring mood into your own home. You don't have to be "crafty" to create something fun from our list of spring crafts for seniors and their families. There's something here for every skill level that will suit each individual.
Pressed Flowers
Pressed flowers appear in arts and crafts that date back hundreds of years, and in cultures all around the world. Simply place flowers and petals between two pieces of absorbent paper. Put them in a large book you no longer need and weigh it down with something heavy. The flowers will be pressed thin and dry in about two to three weeks. Peel them carefully from the paper so as not to damage them.
Here are some spring crafts for seniors that use pressed flowers for different projects.
Flower Luminary
Start with an assortment of about 40 individual dried flowers and petals. Cut 5" x 10" rectangles out of wax paper. Fold in half to create 5" x 5" squares. Arrange 8 to 10 flowers on the inside of a square. Fold the top layer down and carefully run an iron on the medium setting over the top to seal the layers together. Be careful not to melt or burn the paper. Repeat with the remaining squares. Use washi paper to connect the squares into a box. Display by a bright window or add a battery-operated tealight to the center for a nighttime glow.
Petalled Serving Tray
You'll need an unfinished wooden tray from a craft store, and glass cut to fit inside the tray. Paint the tray with a couple of coats of paint in the springtime color of your choice. Glue petals in your design onto the tray using Mod Podge or other clear craft adhesive. Once you've finished placing petals, brush a coat of Mod Podge over all of them to seal and secure them. Let dry overnight before placing glass on top. Additional tips can be found here.
Flower Candle
A white pillar candle works best. You'll also need a smaller candle in the same color you can melt for its wax. Lay the pillar candle on its side and light the other candle. Apply your pressed flowers to the side of the pillar and lightly brush melted wax from the lit candle over the flowers. Let the wax dry and rotate the pillar to repeat the application. Once your candle is fully covered with flowers and dried, finish it off with a twine bow. These candles make a lovely Mother's Day gift for family and friends. Inspiration here.
Spring Treats
We've added these baking-themed spring crafts for seniors and grandkids so they can whip up some fun in the kitchen.
Easter Egg Cookies
Make your own sugar cookie dough and royal icing for this recipe or use store-bought items. Cut the dough into egg shapes with an egg-shaped cookie cutter. Bake according to your recipe and allow to cool. Divide royal icing between four bowls and tint them pastel pink, blue, green and yellow. Transfer icing to piping bags fitted with small round tips. Outline and fill in the cookie surface. Let set and sprinkle with pastel sprinkles and nonpareil.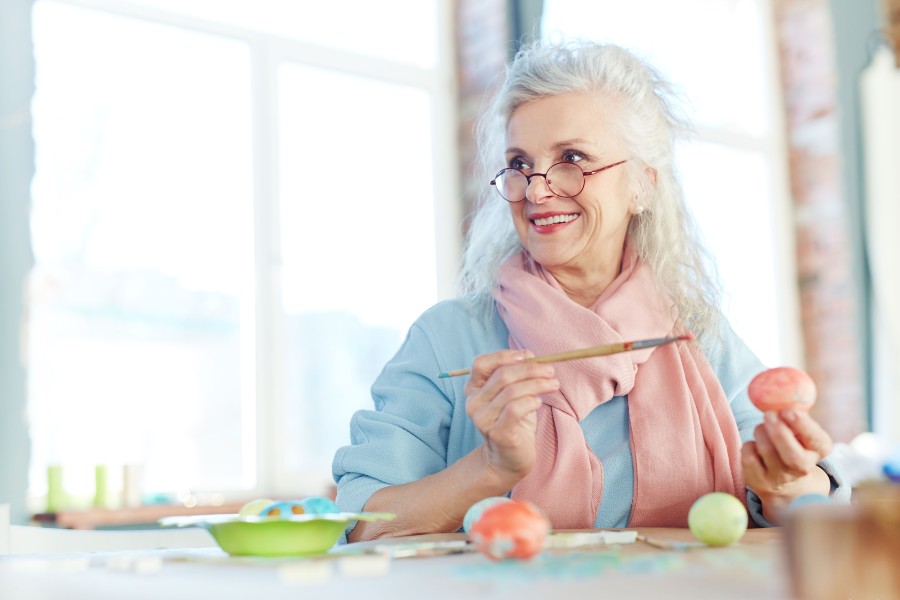 Gingerbread Birdhouse
Kids love decorating gingerbread houses for the winter season — we love this idea from Hallmark for a spring-themed gingerbread birdhouse. This will take some time to bake and assemble before you can unleash the little ones. Recipes and step-by-step instructions are here.
Welcome Guests
Spring is knocking on your door! Welcome guests with a wreath that's easy and affordable to make.   
Seed Packet Wreath   
Collect 12 to 14 of your favorite spring flower seed packets from a garden store, or look for vintage versions online. Attach them to a 12-inch foam wreath form with straight pins, overlapping slightly. You can add a sprig or two of freshly picked or artificial flowers if you like. Tie a ½-inch jute or hemp ribbon as a hanger and tuck a flower in the bow to complete the look.
Hoop-De-Do Wreath
You'll need a large steel ring or embroidery hoop. You can even use a hula hoop if you want to go big. Mix three different types of fresh or artificial greenery along one half of the hoop circle, attaching their stems to the hoop. You can use twine, zip ties or floral tape, whatever you have handy. Attach an odd number of flowers (3 or 5 is best) over the greenery, placing larger blooms at the center. See a full tutorial here.
Umbrella Wreath
April showers bring spring flowers — literally, in this simple spring craft for seniors. Fill a colorful long-handled umbrella with a profusion of your favorite blooms for an easy spring display. Tie the middle of the umbrella with a ribbon to keep the flowers in place. See the inspiration here.
Easter Egg Wreath
Cover 12 to 14 foam Easter eggs (available at hobby stores) with pastel-colored crepe paper. Glue them to an embroidery hoop using hot glue. Cut leaf shapes from felt sheets, pinching one end of each and securing with glue to make a "stem."  Use the leaves to accent the eggs by attaching them to the hoop with a dab of hot glue. Attach felt balls in complementary colors for added whimsy. See the tutorial.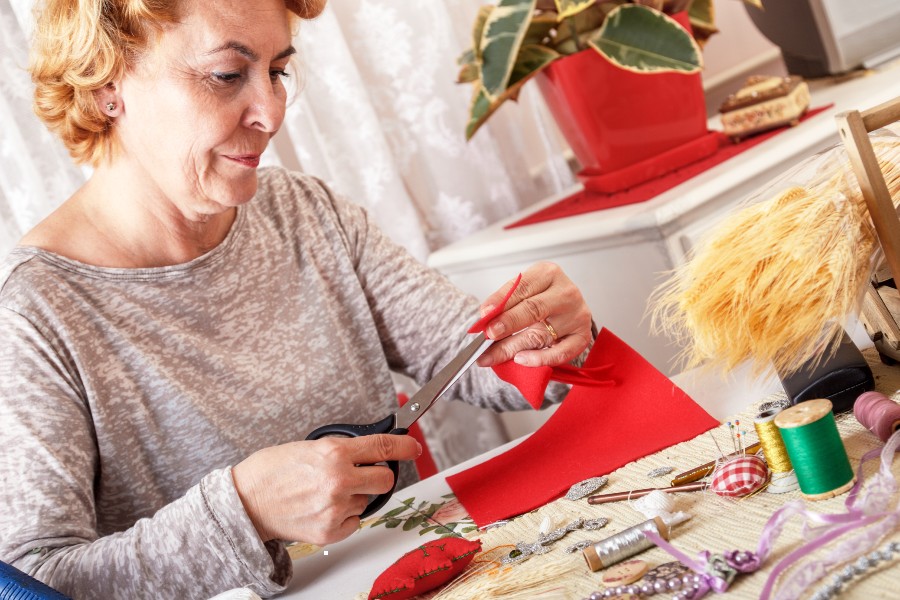 Signs of Spring
These spring crafts for seniors and grandkids celebrate the signs of spring.
May baskets
These baskets are traditionally left on doorsteps or hung on doorknobs of friends, family and neighbors on the first of May. They're often filled with treats, flowers and other small gifts. Make a bunch of simple baskets, here's how, and then get your grandkids to help you fill them with goodies. You'll bring on their giggles as you "sneak" up to someone's door to leave the basket and dash away before you're seen.
Painted Flower Pots
Planting seedlings and watching them grow is one of spring's great joys. Repot your seedlings into terracotta pots that you've painted and personalized to match your home décor. Decide on your design — think flowers, easter eggs, birds and sunshine — or look here for inspiration. Use acrylic paint and let it dry between layers. Because there's no right or wrong way to paint, this is a wonderful activity for kids to do too.
Birdhouse Bird Feeder
Welcome songbirds to your yard with a homemade bird feeder. This project uses simple materials —paint, a glue gun, twigs and twine — to transform an empty pint carton into a birdhouse-shaped feeder. Once constructed, painting the birdhouse could be fun for younger children, or they could simply help you fill it with bird seed.   
Our community offers a full range of social, recreational and cultural activities for all residents, including those in assisted living. From fitness programs and daytrips to volunteer projects and arts and crafts activities, there's something for every interest.
One of the favorite spots in our community is our arts and crafts studio. Well-stocked with all sorts of art supplies, it's a place where you can work on a craft project, join a painting class, or participate in an outreach project like the one we did recently: making bean bags for our community partner schools. Spring, summer, autumn, winter — assisted living in Holland, MI at Freedom Village means you'll stay connected to what you love to do, all year round. Contact us to learn more.