The Social Benefits of Senior Living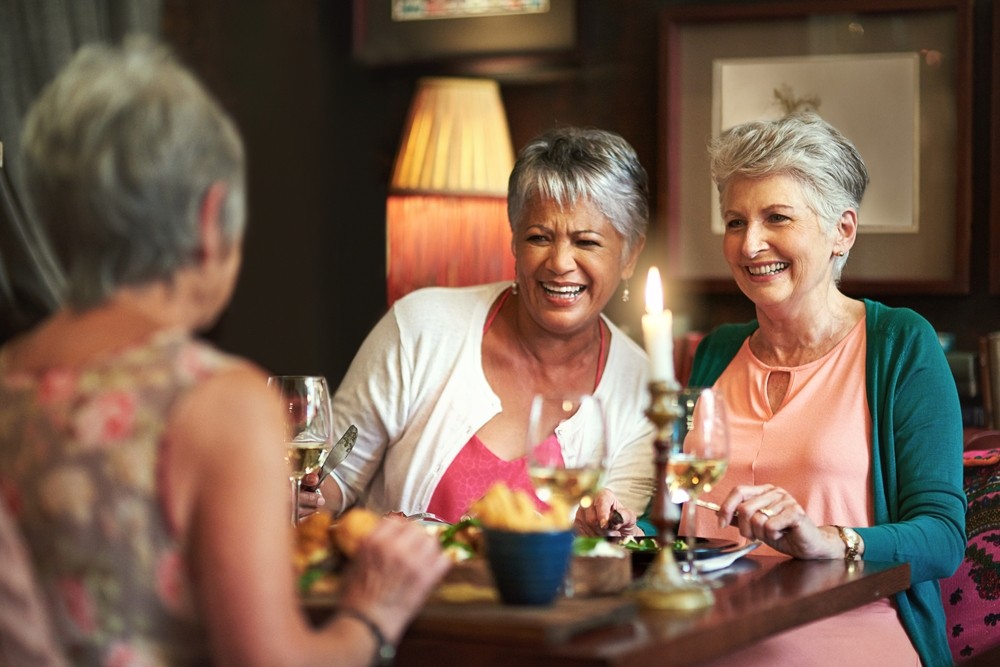 Human beings are inherently social creatures. One scientific study at the University of Chicago suggests that social connection is necessary for the survival of your genes, similar to how your body needs water and nourishment.
With this understanding of the importance of socialization for seniors, independent living communities are putting increasing emphasis on socialization opportunities for their residents.
Social Seniors Live Longer Healthier Lives
So why are senior communities focusing on socialization for seniors?
There are numerous scientific studies that say that seniors who interact with others live longer healthier lives.
Researchers at the University of Texas at Austin found that older adults who interact with a wide range of people were more likely to be physically active, had more cognitive ability, and had greater emotional well-being. This is because they engaged in fewer sedentary activities like watching TV or reading, and got moving in order to interact socially, even if it was as simple as getting out of a chair to answer the door.
A different study at the Rush Alzheimer's Disease Center in Chicago found that cognitive decline in seniors was 70 percent lower in people with regular social contact, compared to those with low social activity.
New Friendships Are Created
One of the best benefits of living in a senior community is all of the new friends you'll make. Moving into a retirement community may be a difficult transition, but you're instantly in a situation where you're surrounded by peers — retirees looking to enjoy their golden years. Seniors get their own apartment-style living space, but are free to enjoy the shared spaces throughout the facility, or invite others over to their apartment for a get-together.
You'll find yourself making friends with people from all walks of life in your new community, which can help you avoid feeling isolated in a new living situation.
Senior Socialization Through Activity
It's easy to socialize when there are planned activities and events every day! Active seniors spend time with friends through scheduled activities on the community calendar. Residents also can  take more active roles in their senior community, creating clubs and leading classes that aren't planned by staff.
Freedom Village has activities for everyone, including volunteer opportunities, lifelong learning classes and themed dinner parties. Check out our activity page to see even more of the fun and engaging activities we plan for our residents.
There are also a number of ways to be active outside the walls of the senior community. Freedom Village is located near downtown Holland, Mich. Enjoy a shopping trip downtown with friends, take in a concert, or visit a beach along Lake Michigan,  just minutes from your home.
Live a Higher Quality of Life in a Senior Community
All of the amenities at a senior living community are designed to create a better overall quality of life where you have fewer daily chores and stresses, and more time to spend with friends and family.
Have a gourmet dinner with friends at the dining room, or meet for coffee at an on-site café. The best part: You don't have to do the dishes!
Senior apartments have less maintenance and upkeep, meaning you have fewer household chores , and more time to enjoy your hobbies with friends.
Senior Life at Freedom Village
There's something for everyone at Freedom Village! With countless activities to choose from, residents can try something new, make new friends and memories, and have fun. At our senior living community, seniors can find a new group of friends who share the same passions and interests. Contact our team today to learn more about what Freedom Village has to offer!