Benefits of Gardening in Retirement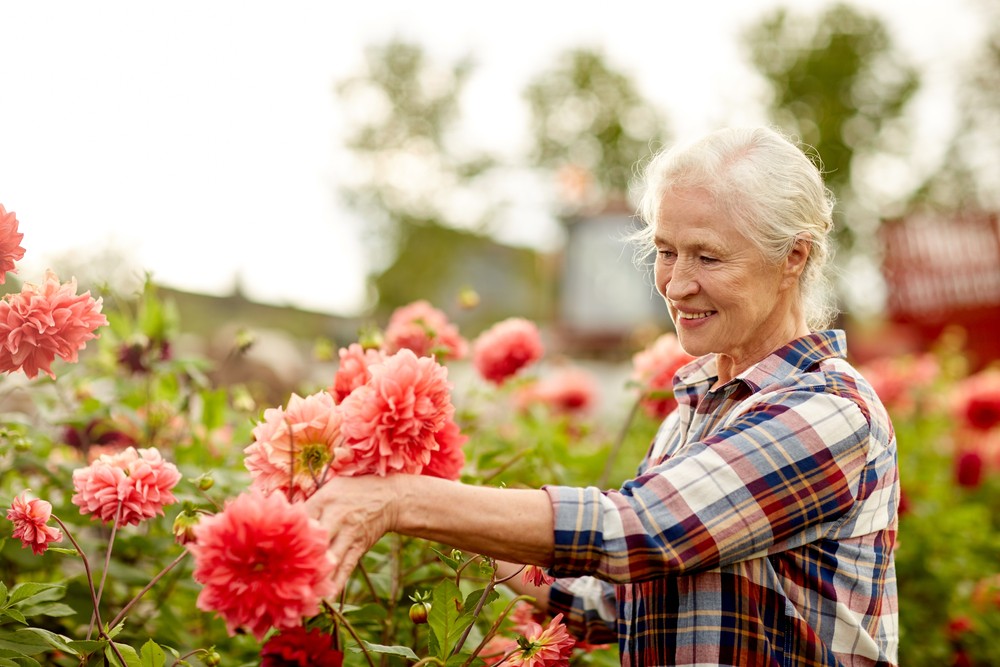 Physical activity is great for your health, but not everyone enjoys a long run or likes to spend time in the gym. There's great news! One of America's favorite pastimes holds a variety of health benefits.
Gardening is a spectacular way to boost your mental and physical health, while also enjoying the great outdoors. The fresh herbs in your tea and extra basket of summer tomatoes aren't bad perks, either. So if you're ready to give your tennis shoes a rest and start using your green thumb, read these 10 reasons you should be gardening in retirement.
1. Unleash your creativity 
Gardening is a chance to completely design and create your own space. You can grow beautiful flowers or sweet summer tomatoes, or test your skills with something tropical. Make your garden a peaceful sanctuary or set up a small seating area in a patio garden that's perfect for coffee and conversation. You can even dedicate a small part of your garden to your feline friend by planting catnip and cat grass in a container.
2. Get enjoyable exercise
Gardening in retirement is an enjoyable way to get a moderate amount of exercise, which leads to an improvement in strength, mobility, flexibility, and cardiovascular health. In fact, gardening for seniors is such a workout that experts recommend stretching before and after to maximize its health benefits. If you have trouble kneeling down to tend a traditional garden bed, try a raised garden bed containers, or add a modern twist to your patio garden by using vertical planters.
When you exercise in the pool, you're getting great cardio and strengthening your muscles, but you're not improving your bone strength. Gardening is a weight-bearing exercise, which is good for both bone and muscle strength and can prevent osteoporosis.
4. Reduce stress and promote relaxation
Several studies have shown that gardening can lower levels of cortisol and increase your serotonin levels, which can lead to decreased stress levels and an improved mood. Even better, it only takes 30 minutes of gardening to experience these mood-elevating benefits.
5. Find opportunity for new friendships
Gardening in retirement offers a way for older adults to connect with nature and each other. When you share your love of gardening with others, it gives you the opportunity to make new friends and increase the bond between you and your current friends. You can experience the benefits of gardening for seniors year-round. When it's too cold outside to use your green thumb, gather with your friends for a cup of coffee, make garden plans, exchange tips and get excited for next season's harvest!
There's no amount of fertilizer that can make a plant grow overnight, and you might make a few mistakes while learning how to garden. Taking care of plants and watching them blossom in their own time can remind you to practice patience with yourself, while also giving you something beautiful to look forward to in the near future.
7. Increase hand strength
Using gardening tools or pulling weeds by hand are great ways to improve strength in both your arms and hands. If you have arthritis, gardening in retirement will require tools with wide handles to increase your grip and protect your joints. You can buy new garden tools or widen the handles of current favorites by using pipe insulation, which can be found at most hardware stores.
Gardening has been shown to increase focus and improve alertness in older adults. Studies have reported the natural settings offered by gardening increase positive environmental stimulation, which allows you to better filter out extraneous noise and dedicate your attention to one task. Having access to a garden has also been shown to reduce agitation and increase autonomy in seniors with dementia.
9. Discover  gardening is easy with the right plants
Even if you don't want to maintain a vegetable garden, your green thumb is still good enough to grow an abundant supply of herbs and spices. Mint is an easy-to-grow plant that can be used in teas, and lavender is equally stress-relieving and beautiful. Rosemary is a great herb for topiary creations like wreaths and small centerpieces.
10. Bond with younger generations
If you're looking for a fun and easy way to spend time with your grandkids, let them dig into your garden. It's a wonderful way to share valuable gardening tips, information about plants, and family traditions. Consider dedicating a special container garden to your grandkids, and be sure they're included in activities like weeding, pruning and watering. That way you can both reap the benefits of your hard work.
There's Plenty of Room to Grow at Freedom Village
Whether you like to bond with bonsai trees or fawn over fresh flowers, the bright sunny interiors and private patios of our independent living residences are the perfect place  to use your green thumb. You can also enjoy the company of your neighbors and show off your skills by joining the community Garden Club!
To learn how you can thrive at Freedom Village, contact our senior living representatives online and we'll schedule a tour as soon as possible.