When to Move from Assisted Living to Memory Care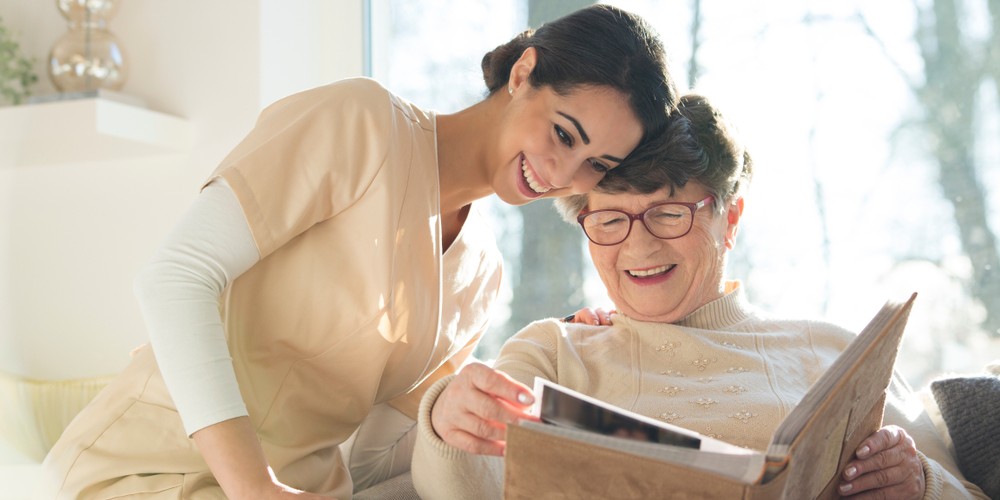 Maintaining independence is important for older adults, which is why many older adults choose to move into assisted living when physical challenges interrupt their daily activities. However, when you notice cognitive changes in your loved one that could signal dementia, you might wonder if it's time for them to move from assisted living to memory care.
Take a quick look at the differences between these two levels of senior care, and learn five common signs your loved one might benefit from specialized support in a memory care community like Freedom Village.
What's the Difference Between Memory Care and Assisted Living? 
Assisted living is ideal for older adults who need help with daily activities of living in order to maintain an independent lifestyle, but aren't experiencing memory loss that affects their day-to-day routine.
Memory care is a specialized form of senior care designed to help those with Alzheimer's disease and other forms of dementia continue to live as independently as possible, but memory care provides much more support than assisted living services.
However, assisted living and memory care at Freedom Village share many of the same features, including:
Beautifully appointed, maintenance-free residences
Help with activities of daily living
Housekeeping and flat linen services
Supportive dining environment with personalized assistance when needed
Social events and activities
Fitness and wellness programs
Frequent community outings
Access to community amenities, including the barbershop, fitness center and pool
These are key differences that make memory care a more specialized level of living for seniors with Alzheimer's disease and other forms of dementia:
Dementia-specific programming for maximum enrichment
High staff-to-resident ratio to ensure every resident gets high-quality care
Social activities and events enjoyed in small clusters to avoid overstimulation
Added safety features that include enclosed gardens and courtyards, door alarms, motion-activated lights, and easy-to-navigate hallways and common areas
Specialized diets customized by a registered dietician for residents who may have trouble chewing or swallowing, or dietary restrictions
Our Life Plan Community in Holland, MI, provides industry-leading personalized memory care, including specialized Alzheimer's care. Your loved one will enjoy a peaceful environment that promotes dignity and a sense of pride in day-to-day activities, while you gain the comfort of knowing your loved one has the best quality of life possible.
Signs It Could Be Time to Move from Assisted Living to Memory Care
There's no one-size-fits-all answer for when it's the right time to move from assisted living to memory care. However, there are common signs that could mean your loved one is experiencing symptoms of dementia and could benefit from extra support.
Here are 5 signs it might be time to talk to your loved one about memory care:
1. Confusion about time and place
It's normal for people of all ages to forget why they entered a room or need help remembering the date, but it's likely an early sign of dementia if your family member forgets where they are, how they got to a specific place, or are constantly forgetting what day of the week it is. In middle and  late stages of dementia, confusion about time and place may cause your loved one to wander, which can lead to falls, injuries or getting lost.
Wandering is one of the biggest reasons for your loved one to move from assisted living to memory care. It  provides a safe, secure environment designed to help people prone to wandering easily make their way back home, along with 24/7 security and personal assistance, so you won't have to worry about their safety.
2. Lack of sleep or too much sleep
Changes in sleep patterns are common in people with Alzheimer's disease and other forms of dementia. If your loved one is suddenly having trouble sleeping at night and napping during the day, consider speaking to their care team in assisted living about what else might be interrupting their sleep,and if your family member is displaying other signs of dementia.
Memory care communities feature bright, sunny daytime environments to decrease sleep-wake cycle disturbances. They also provide plenty of opportunities to enjoy physical activity, like balance exercises and aerobics, which has been shown to aid in a better night's sleep for everyone, including those with dementia.
3. Loss of interest in their favorite activities
A loss of interest in hobbies and favorite activities often occurs in the early stages of dementia and persists as it progresses. It could be time for memory care if you notice your loved one has little desire to initiate and engage in activities, shows lack of interest or indifference over something that used to excite them, or has suddenly lost the usual curiosity to learn new things.
At our memory care community in Holland, MI, we have a variety of engaging activities for those in all stages of dementia, including arts and crafts therapy, horseshoes, TV and movie nights, and armchair travels. Residents also enjoy a variety of intergenerational activities and holiday celebrations, including a Veterans Day program, birthday celebrations, and cultural heritage days.
4. Overwhelmed by sights, sounds and unfamiliar places
People in all stages of dementia face unique sensory challenges, which makes some sights, sounds, and unfamiliar places cause feelings of anxiety and confusion, even in the early stages. Sensory overload can lead your loved one to act aggressively or withdraw from social situations that occur outside a familiar setting.
Memory care communities, like ours at Freedom Village, reduce fear, anxiety, confusion and frustration in a quiet, calm environment, with care provided by a team specially trained in supporting those with dementia. Activities are just as welcoming as they are engaging, and our care team is dedicated to promoting each resident's self-worth, self-esteem, and overall health and well-being.
5. Repeating stories during the same conversation
Verbal repetition is common in all stages of dementia, but it's most common in early stages of Alzheimer's disease. Repeating stories and phrases in the same conversation might be a sign your loved one is experiencing mild symptoms of dementia and could benefit from specialized support.
Repetition is one of the most frustrating symptoms of dementia for family caregivers. Along with providing your loved one with specialized memory care support, Freedom Village also supports you and your family with resources, counseling services, and other services to help you cope with the stress of caring for a loved one with dementia.
Remember, Moving from Assisted Living to Memory Care Is a Big Decision 
Seeking a dementia diagnosis and open communication about the condition of your family member's health can help their senior living community reevaluate their care plan, and help them seamlessly transition to their new home within the community.
Keep in mind that moving to memory care from assisted living is a big decision, and your loved one should be involved in the process as much as possible, no matter what symptoms they're experiencing. Be patient with your family member, and give them a little time to adjust to the idea of transitioning to a higher level of senior care.
Find Industry-Leading Memory Care and a Compassionate Care Team at Freedom Village
You don't need to navigate senior living on your own. Freedom Village is here to help your loved one thrive with industry-leading memory care, including specialized Alzheimer's care, while also providing you with peace of mind that compassionate caregivers are meeting their needs 24/7. Contact our team online to learn more about memory care at Freedom Village, and we'll be in touch shortly!