The Best Beaches near Holland, MI, to Visit This Summer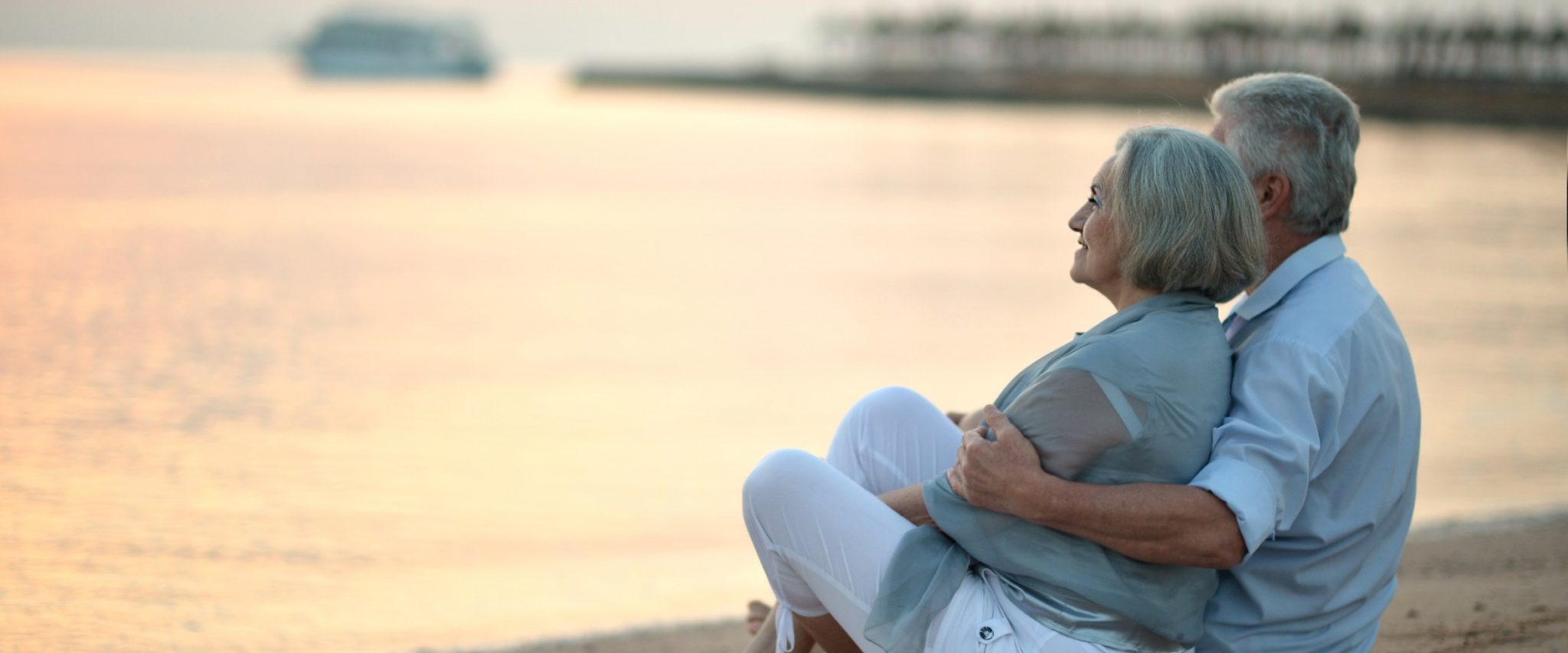 If you're headed to Holland, Michigan this summer, be sure to check out our shoreline. Michigan boasts some of the best beaches in the U.S., and Holland, Michigan beaches are among the best in the state. 
From small, secluded beaches to expansive state parks, Holland-area beaches offer something for everyone. Climb the dunes for dramatic views, lounge in a beach chair while you soak up the sun, or go for a dip in the clear blue water of the third-largest Great Lake. Whether you want to sunbathe, beachcomb or build a sandcastle, here's a quick guide to the best beaches in and around Holland, Michigan.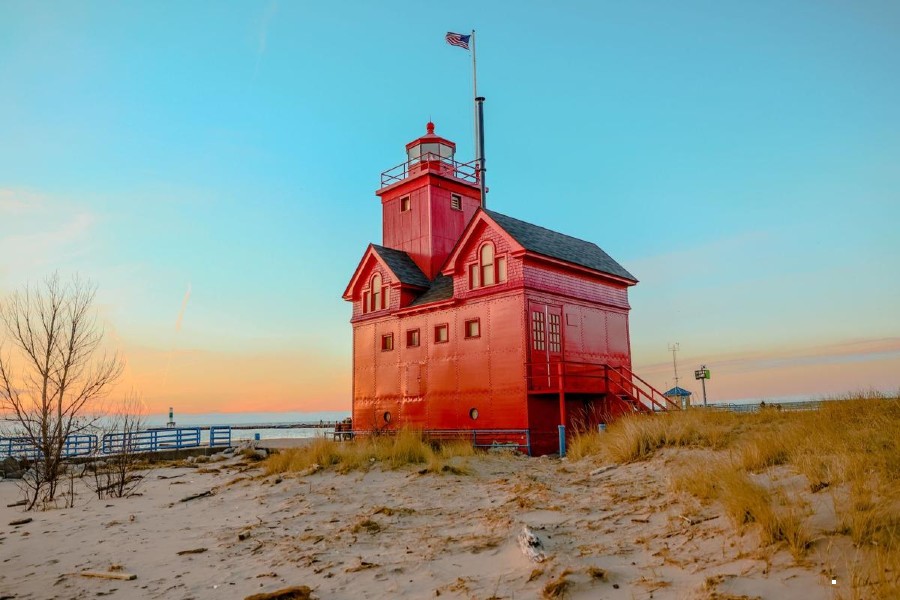 (Source: The Oakland Press)
Holland State Park
Holland State Park is best known for sugar-sand beaches, beautiful sunsets, and views of the iconic Big Red lighthouse. To enjoy the full Big Red experience, begin at Mt. Pisgah, where a dune staircase carries you 157 feet above sea level to a breathtaking panorama of the shoreline and its scarlet sentinel. If basking in the sun is more your thing, there's plenty of room to spread out a blanket or pitch a beach umbrella. The pristine beaches, campground and boat access attract a lot of visitors. Arrive early if you're planning a day at the beach this summer.
Tunnel Park
This park gets its name from a tunnel that takes you through a sand dune to the beach. Kids love running through the tunnel. But they can also run up to the top of the dune to an overlook for a great view of the lake. (Adults may prefer to take the stairs.) Running down the dune to the beach is pretty fun, too. In addition to a great stretch of beach and the tunnel, you'll find a children's playground, sports fields, and plenty of picnic tables.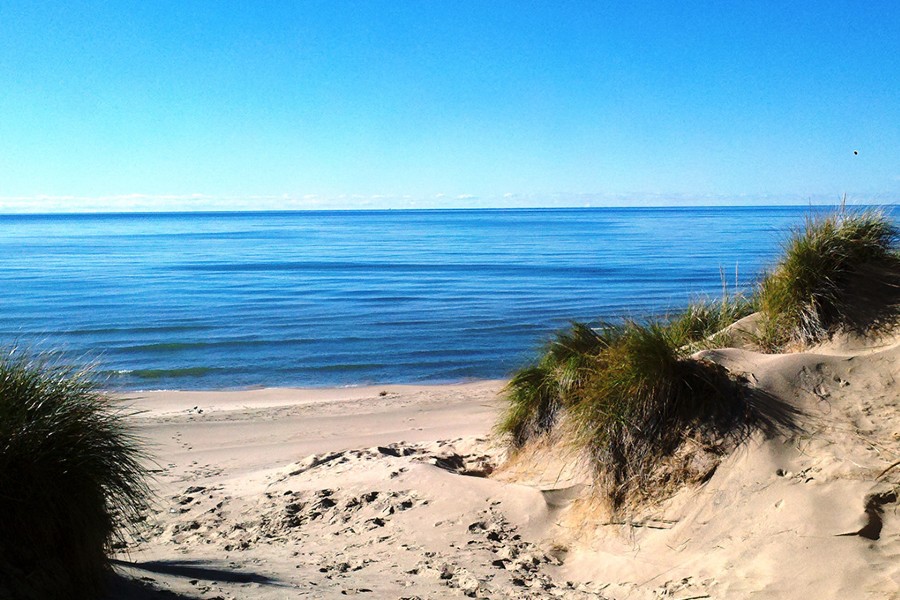 (Source: https://visitgrandhaven.com/listing/kirk-park/)
Kirk Park
Further north of Holland is Kirk Park featuring 66 acres of sandy beach backed by high bluffs and wooded dunes. Nature trails with wooden stairways wind through the wooded dunes. offering spectacular views of Lake Michigan. A paved path leads to a deck overlooking the beach and Lake Michigan. This is a popular park for swimming, sunbathing and picnicking. There's also an off-leash beach where your furry friend can enjoy the shore.
Saugatuck Dunes State Park
Twelve miles south of Holland is the beach town of Saugatuck. This 1,000-acre state park includes 2.5 miles of shoreline, a secluded beach, and towering dunes that slope down to the clear water of Lake Michigan. There are four trails that take you to the beach, so you can get in a good hike and see some wildlife on the way.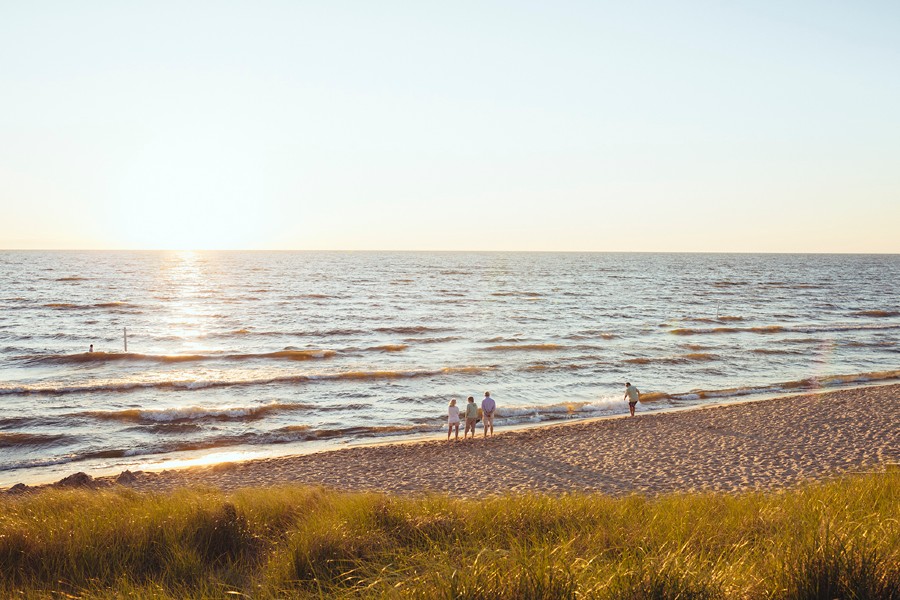 (Source: https://www.holland.org/visit-oval-beach)
Oval Beach
Saugatuck's Oval Beach has been rated as one of the 25 best shorelines in the world by Conde Nast Traveler magazine. The mile-long white sand beach and pristine sand dunes make it an ideal spot to soak in the sun and take in the view. You'll find plenty of amenities, including picnic tables, a concession stand, showers and a playground. The town of Saugatuck also offers a tempting choice of pubs, cafes and restaurants to refuel after a day at the beach.
South Beach in South Haven
Drive 30 minutes south of Saugatuck, and you'll discover one of the most visited beaches on the Michigan shore. The family-friendly beach park in South Haven boasts wide, soft sand beaches where you can lounge in the sun, build a sandcastle, fly a kite, walk along the pier, or rent a paddleboard. The beach is also the best place to watch a beautiful Lake Michigan sunset. 
Warren Dunes State Park
Further south of Holland is one of Michigan's most popular state parks. You can park right at the beach and dig your toes in the sand without a long trek to get there. The park boasts 3 miles of shoreline, 6 miles of hiking trails, and a 260-foot dune to climb. There's loads of room for kids to race around, and you can bring Fido too. The pet-friendly shoreline is a paradise for your four-legged friend.

(Source: https://www.michiganwatertrails.org/location.asp?ait=av&aid=205)
Tiscornia Beach
About an hour's drive south from Holland is this 16-acre park in the resort town of St. Joseph. It's a great spot to sunbathe, swim, or stroll along the beach north of the pier. If you're feeling adventurous, you can walk on the pier out to the lighthouse. With the lighthouse as a backdrop, Tiscornia Beach is a favorite with photographers. 
P.J. Hoffmaster State Park
This beachgoers delight is about 40 minutes north of Holland. The park features the Dune Climb stairway, lake-view observation deck, and 3 miles of sandy coastline. When you're not bobbing in the clear blue water or soaking in the sun, you can walk along the shoreline or explore miles of hiking trails.  
To learn more about our area beaches, visit the Holland Area Visitors Bureau website. Looking for a lakeside hike? Check out these 5 hiking trails.
Every day feels like summer at Freedom Village.
The freedom of a summer vacation lasts all year long for residents of Freedom Village. With home maintenance and housekeeping in their rearview mirror, residents are free to pursue their interests and spend more time doing whatever makes them happy, including frequent trips to the beach. To learn more about independent living at Freedom Village, get in touch. We're always happy to answer your questions.
New to the area? Learn why Holland is one of the best places to retire in Michigan.